Homemade books. Old magazines. Glue sticks and scissors. Plus our wonderful volunteer Cari and a new program for tweens is created!
Cari is a recent graduate from Moore College of Art and Design and she wanted to share what she learned with our Summer Reading Club members. For the first class we made inspiration/ concept books: books filled with drawings and clippings of what we thought were fashionable.
As the group flipped through magazines Cari shared her experience from school. In the upcoming weeks we will learn the process of designing a collection: sketching and picking out fabrics.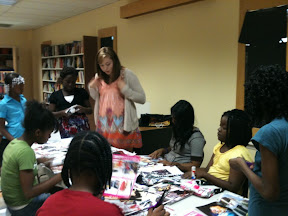 Join us next Thursday for the next meeting of Fashion Frenzy.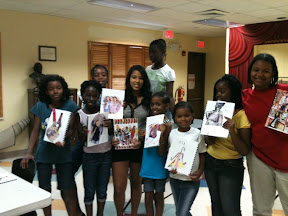 The group showing off their books!
-r